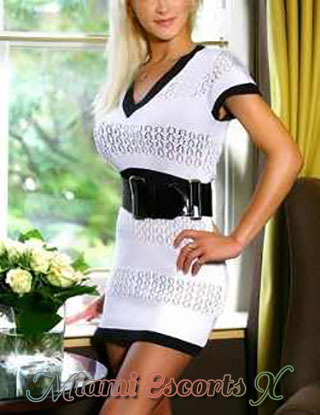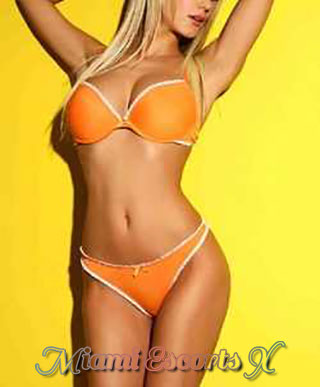 SATINE Has a Vivacious Body and the Softest Touchable Skin Ever!
Our very remarkable member of the South Beach escorts team because of the way she keeps her skin so silky and soft. The gentlemen she dates admit, they have a difficult time keeping their hands off of her soft shoulders and lovely arms while they are out and about town. It's also very hard to forget her name because her luxurious, long, blonde hair is smooth as satin to the touch.
Be the Center of Attention when You are Out with Satine!
Being one of our young fun-loving escorts Miami recognizes in every corner of the night-life scene, Satine is known and adored wherever she shows up. In fact, if you want a date where you will be in the limelight, let Satine take you to some of her favorite hot spots around town.

1) So Satine, what is the thing you want a date to remember the most about your incredible escorts Miami service?
Most important, I want my date to remember our time together as the best experience he ever had. Then I always want him to remember my phone number, because I have no doubt, he's going to want another date with me. I work hard to make sure our time together is memorable, the biggest compliment I can get is a return visit to Miami escorts.
2) What do you like to do first when you gets to your dates hotel room?
My first concern is that my date is comfortable. If I am over dressed compared to him, I'll probably start by taking some of my clothes off. Sometimes I'll just feel so naughty I want to dance and strip for him right away. If we have to be somewhere, I'll just give him a preview of things to come later on. If we are settling in for the night, I'm going to set the mood with candles, massaging oil and sexy music.