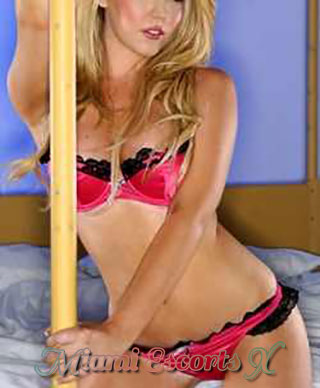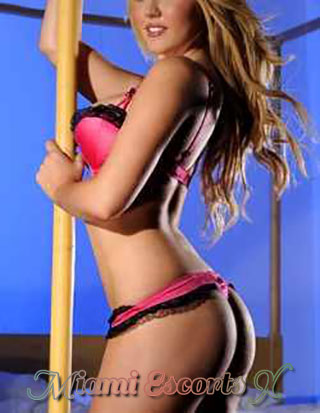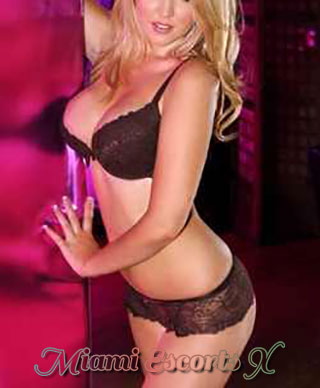 SKYLA Our Girl of Mystery and Daring!
There is an attractive mystery about this voluptuous blonde bombshell. Skyla can be an attentive, intelligent guest at an aristocratic banquet early in the evening, then she'll utterly take you off balance when she becomes your deepest fantasy girl once she gets you alone in your hotel room. She'll never shrink from a challenge which makes her quite daring.
Skyla knows South Beach and Miami Beach Too!
What seems to draw our clients to Skyla over and over, is her ability to keep them interested with her alluring beauty, sense of mischief, and her willingness to do all that she can to please them. She spends a lot of time going on amazing high-class dates with business clients and world travelers, but our Skyla is just as happy at a beach barbeque or in a quiet hotel room watching a movie and munching on popcorn.

1) Skyla, what are your favorite dating locations?
During the summer season as one of the top escorts in Miami, I really love romping on the beach in a gorgeous bikini with the wind in my hair and refreshing salt water all over my body. I really enjoy the ocean, a heated swimming pool or a sparkling jacuzzi. My best dates begin with champagne and some kind of water play.
2) Is there some activities you enjoy with your clothes on?
Ok, so I really love spending the day, (or night), with most of my body - clothes free, but that doesn't mean I have to be naked all the time. In fact. I pretty much like the way I look in different fashions. My tall height is quite an asset when wearing an evening gown during formal occasions. I also really love the way my long legs look in shorts. Dressing casual can be fun for a relaxing date on a boat, or a luncheon in Miami Beach. As one of the popular Miami Beach escorts, I get to enjoy wearing lots of daring costumes for role-playing, fun and games.